Originally published at MEILIN MIRANDA. You can comment here or there.
Testing whether the body will appear properly.
Originally published at MEILIN MIRANDA. You can comment here or there.
So here's a kind of cool thing that happened:

Yesterday and today editor David Gatewood is holding a 99-cent sale at Amazon for an anthology I'm in,
Synchronic
. It's a solid anthology; I guarantee you'll find at least three stories you like in it, and many of you will enjoy all of them. I don't get paid any more than I've already been paid, but it's the only way David gets paid for all his work so I wholeheartedly encourage you to get it. If the book does well, we get to make more anthologies and I get to work with David some more; he is just a terrific editor.
The side effect of our promo efforts for the sale is that as it catapulted the book up the Amazon charts--we topped out at #16 in the entire store, not just in SFF (where we made it to #1 in a bunch of categories)--it also catapulted its authors way up the author rankings. That's what the screenshot is of.
For a little, tiny while, I am ranked higher than Neil Gaiman. It's extremely temporary and reflects nothing but a successful promo push, but you can be damn well sure I took screen shots.
Originally published at MEILIN MIRANDA. You can comment here or there.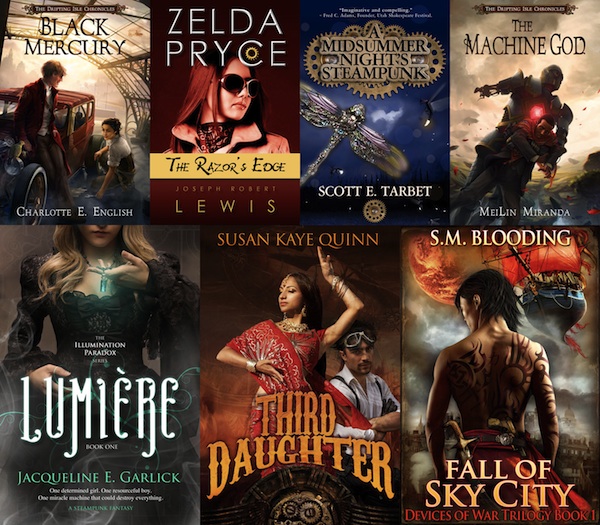 I am tickled to death to announce that today The Machine God is part of the Bundle of Extraordinary Steampunk, at Storybundle. The collection was curated by my friend Susan Kaye Quinn, and if you've never heard of Storybundle, this is how it works:
The initial titles in the bundle (minimum $3 to purchase) are:
Black Mercury by Charlotte E. English (one of the other Drifting Isle books)
Zelda Pryce by Joseph Robert Lewis
The Machine God by MeiLin Miranda (that's me)
A Midsummer Night's Steampunk by Scott E. Tarbet
If you pay more than the bonus price of just $10, you'll get another three books:
Lumière by Jacqueline E. Garlick
Third Daughter by Susan Kaye Quinn
Fall of Sky City by S.M. Blooding
You're going to want to sign up for my newsletter because I'll be giving away THREE of these bundles to subscribers later this week!
The bundle is available for a very limited time only, via http://www.storybundle.com. It allows easy reading on computers, smartphones, and tablets as well as Kindle and other ereaders via file transfer, email, and other methods. You get multiple DRM-free formats (.epub, and .mobi) for all books, but after the three weeks are over, the bundle is gone forever! You can also buy a gift card for this StoryBundle if you have a friend you think would enjoy this.
Why StoryBundle? Here's what they say for themselves.
-- Get quality reads: We've chosen works from excellent authors to bundle together in one convenient package.
-- Pay what you want (minimum $3): You decide how much four fantastic books are worth to you. If you can only spare a little, that's fine! You'll still get access to four thrilling titles.
-- Support authors who support DRM-free books: StoryBundle is a platform for authors to get exposure for their works, both for the titles featured in the bundle and for the rest of their catalog. Supporting authors who let you read their books on any device you want—restriction free—will show everyone there's nothing wrong with ditching DRM.
-- Give to worthy causes: Bundle buyers have a chance to donate a portion of their proceeds to charity. We're currently featuring Mighty Writers and Girls Write Now.
-- Receive extra books: If you beat our bonus price, you're not just getting four books, you're getting seven!
You've got three weeks to get this bundle, but get it now while you're thinking of it. :)
Originally published at MeiLin Miranda. You can comment here or there.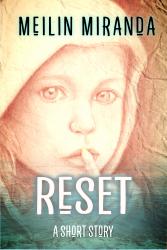 "Reset," the short story I wrote for the anthology Synchronic: 13 Tales of Time Tra
Read the rest of this post
Originally published at MeiLin Miranda. You can comment here or there.
PLEASE READ THE FULL SERVICE DESCRIPTION FIRST, TO UNDERSTAND WHAT I CAN AND CANNOT DO FOR YOU.
Get five blurbs for the price of four with this limited time offer!
By hiring me, you agree that you do not expect any additional traffic or sales as a result of my work. In return, I agree that you own the words we work on together. You also understand that there is no refund once I have started the work.
Originally published at MeiLin Miranda. You can comment here or there.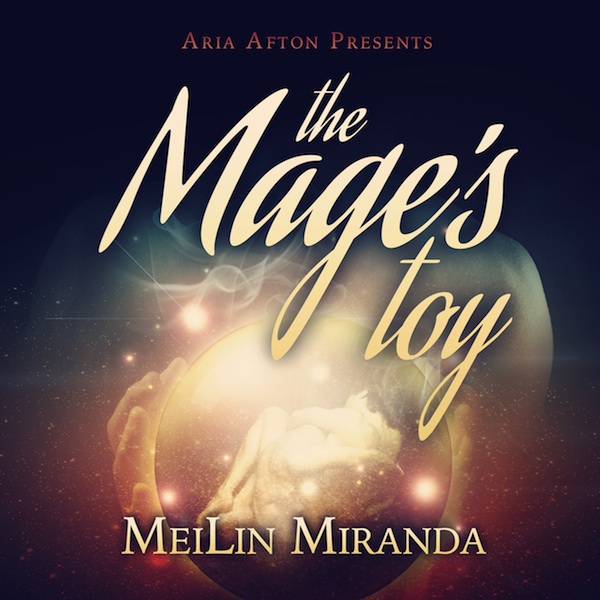 "The Mage's Toy" Audiobook
Narrated by Audrey Lusk
Listen to a five-minute sample
Available at Audible, Audible UK, Amazon, and iTunes
Prices vary depending on store
Read the rest of this post
Originally published at MeiLin Miranda. You can comment here or there.
This is long.
I haven't gotten much writing done these past few days. Some, but not much.
For years after I got sick, our yard went to hell, and I tell you: In Oregon, hell is covered in blackberries. The blackberry vines were up to my neck. The dog couldn't go down the back steps. It was that bad.
We finally scraped enough money together to hire a landscaper, who wasn't able to do much more with the little we had but clear out the blackberries and other weeds, and lay down the bones of our future garden. Gravel paths. Beds where future shrubs will go. A gravel patio next to the concrete patio, with two raised beds for vegetables, and a fire pit.
For eight years I haven't been able to use our yard. Now, in fine weather and foul, I find myself walking through the yard, patrolling for those damn blackberries and thistles. Even after their ruthless extermination, they're determined to come back, and I am determined to stop them. The only way to do so is to wait until they stick their tender, tentative heads up through the mulch or gravel, and cut them to the ground. Over and over and over. Eventually, they give up and die, or go somewhere less hostile.
When that is done, I find myself sitting on the back deck under my new patio umbrella, drinking coffee. Sometimes I read. I am so very behind on my reading. I haven't read--really read--in years. I haven't let myself. Reading fiction was frivolous. I felt guilty for doing it. I had things to do, like kids, and staying alive.
I have a lot of young writers in my orbit, not unusual in homeschool circles and not unusual when both my daughters are writers of one kind or another. "For every word you write, you must read ten," I'd opine, parroting better writers than I am--Steven Barnes just for starters.
But was I reading ten-for-one? No. I had spent my youth walking into walls with my nose in a book. Wasn't that enough? Hadn't I stored up nearly forty years' worth of words before I stopped letting myself read?
No.
Reading is my job. It's a huge part of my job. It's a part I was confusing with laziness. Reading, for fiction writers, is not laziness. It's essential.
Consequently, I am gorging on words like a starving woman. I am sitting on my deck in soft Oregon sunlight, sometimes filtered by the patio umbrella, sometimes by clouds, and I am reading. I spent this afternoon reading a Roger Zelazny novella. I spent the days before that reading Tanith Lee's The Silver Metal Lover (wonderful, and very close to my own work), Patrick Rothfuss's The Name of the Wind (the longest prologue I've ever read, not that I minded too much), several anthologies including the next one I'm in (Synchronic: 13 Tales of Time Travel
, which you can pre-order now--it's coming out Thursday!).
I read N.K. Jemisen's The Hundred Thousand Kingdoms. I finally finished Anansi Boys. I have a bunch of books by friends on my Kindle to go through. I renewed my subscription to Fiction River and Clarkesworld
, and I'm going to subscribe to Lightspeed
. I'm reading Trollope, who I adore, along with a group of other Trollopians; right now we're reading He Knew He Was Right. I may even take YET ANOTHER run at that goddamned Cryptonomicon
; I have been trying to read that book for years now.
Today, as I sat in the perfect warmth on the deck, I had the Zelazny novella ("Eye of Cat") in my hands. I'd spent my therapy appointment yesterday talking about why the hell I wasn't writing more than a couple hundred words a day (yesterday I actually deleted words); I didn't know, except I currently have a strange, dreamlike sense of the present that I'm loathe to leave.
Last week was my eighth "rebirthday," the anniversary of my death and revival. Usually flashbacks and PTSD accompany the day, but not this year; this year I didn't even realize it was the day until it had passed. For the last few years, struggling with the PTSD, a supplement it turned out was slowly poisoning me, several illnesses and a surgery, the world of the body was out of my reach. I didn't go outside--couldn't. I didn't do much of anything but write, and suffer, until there was nothing left but illness. I am better now, but I am also empty.
It dawned on me that in spending my days reading outside, soaking in warmth and peace in my new garden, I am not just filling myself back up. I am learning how to be in a body. I've never been good at being in a body. When I was a girl, struggling with my weight and all the soul-crushing judgment that comes of being a prone-to-fatness woman in a misogynistic culture, I used to fantasize about being disembodied--just a floating consciousness.
What a sad wish, don't you think? I have had and will have again literal eons to be part of the disembodied whole. Though droplets of my soul may go on to be a part of many other things, this is the only time I'll be me. Being me, means being in this body.
So that's what I'm doing. I'm back to learning to be in this body. I'm back to learning my craft through the work of others who are better at it than I am. And that will have me back at the keyboard, sooner than we all think, because I am letting myself do these things.
I have to.
Read the rest of this post
Originally published at MeiLin Miranda. You can comment here or there.
I'm celebrating being at the halfway mark on book three in An Intimate History of the Greater Kingdom!
Lovers and Beloveds is FREE for a while at Amazon
, Kobo and Google Play. If you've ever wanted to read it without clicking through all the chapters here, or if you've ever wanted a friend to read it, now's the time.
UPDATE:
LaB is now free at even more bookstores! Here's the full list:
Direct: four most popular formats in one purchase
Amazon: US
~ UK ~ CA ~ AU
Kobo Books
Google Play
iTunes: UK ~ US ~ all regional iTune stores (search for ISBN 9780981307190)
Smashwords
Read the rest of this post
Originally published at MeiLin Miranda. You can comment here or there.
Siegfried Ansel kept Adewole well into November before he was allowed to return to Mrs. Trudge's lodgings. That teapot-shaped lady welcomed him back with tears and tea cakes before she left him in his old rooms. Deviatka's personal effects had been brought down from Risenton, and Blessing had directed Mrs. Trudge to pack up the dead man's belongings and send them to his family. The guitar remained; Mrs. Trudge said it belonged to Adewole now, his family didn't want it. He picked it up, plucked a few chords and put it down. Too soon for music, too soon for anything stringed, too soon for anything of Deviatka's. The man he knew hadn't existed. Nothing about his friend had been real, not even the friendship, but when Major Berger cleared him to return to Risenton, Adewole took the guitar along.
Read the rest of this post
Originally published at MeiLin Miranda. You can comment here or there.
Doctor Ansel set an armed guard over Adewole's room in Founder's Hospital this time, a chamber set up more like a tiny study than a sickroom, but with round the clock nursing and enforced rest periods. "Oladel, my friend, you've stepped in it," he said, "and not just with the brass." He launched into a scolding featuring variations on the theme you could have been killed, you crazy Jerian.
Adewole shrugged. "Siegfried, it does not matter any more. I have no intention of escaping. I did what I had to do, and there is an end to it. I shall stay here until you tell me I may go."
"I certainly hope so. Berger left orders to fill you full of needles if you so much as stick a toe out of this room without permission. I can't vouch for what will happen if you get loaded up with that much anesthetic, even at your size."
Read the rest of this post